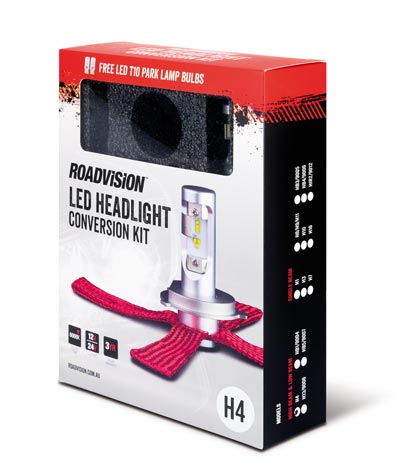 LED HEADLIGHT

 CONVERSION KITS
Convert your headlights with Roadvision LED Headlight Conversion Kits. Producing up to 150% more light, they provide a precise, OEM matched beam pattern which reduces glare to oncoming traffic.
Roadvision LED Headlight Conversion Kits are compact in size to fit more applications and, with a 6000K colour temperature, are designed to match other LED lights, driving lights and light bars.
With anti-corrosion aviation aluminium and foldable copper heatsinks (no moving parts), Roadvision LED Headlight Conversion Kits are made for rugged, offroad use and are designed to last.
The Kit also includes 2 FREE 12V LED T10 park lamp bulbs!
Optional 12V LED CANBUS Adaptor Kits are available in four models suitable for H4, H7, HB3/HB4/HIR2 and H8/H9/H11 LED headlight globes.



Precise light source with shaped light beam
12-24V multi-volt input
High powered 24W 1800 lumens per bulb
6000 Kelvin white light
Ultra long life 50,000hr rated lifespan
IP68 weather proof
Shock resistant with no moving parts
High efficiency heat dissipation with 4 copper belts
Small bulb size allows fitment into most OE head lamp housings
Plug & play directly into vehicle harness
Optional compatible CANBUS adaptors
Please note: This product is not approved for ADR. Suitable for off road use only.
2 x LED Headlight Bulbs
2 x LED T10 Bulbs (12V)
2 x LED Headlight Driver
4 x 200mm Cable Ties
| wdt_ID | Specifications | LED Headlight Conversion Kit |
| --- | --- | --- |
| 2 | Input Voltage | 12/24V DC |
| 4 | Lumens (Per Bulb) | 1800lm |
| 5 | Watts (Per Bulb) | 4W |
| 6 | Colour Temperature | 6000K |
| 7 | Ingress Protection | IP68 |
| 8 | Operating Temperature | -40°C - +90°C |
| 9 | Warranty | 3 Years |
| wdt_ID | High Beam & Low Beam | Single Beam |
| --- | --- | --- |
| 1 | H4 | H1 |
| 2 | H13/9008 | H3 |
| 3 | HB1/9004 | H7 |
| 4 | HB5/9007 | H8/H9/H11 |
| 5 | | H10 |
| 6 | | H16 |
| 7 | | HB3/9005 |
| 8 | | HB4/9006 |
| 9 | | HIR2/9012 |